Hey guys! So thanks for sticking around through that last series (if you missed it, you can start at part 1 here.).It was a tough, but necessary one and I am so so so grateful for all of your support! But now I'm ready to talk about some stuff that makes me happy. Chill? Grool.
Contrary to what it may seem like in so much of my writing, I actually have had many positive experiences with men in New York City. Okay, maybe many is a little forgiving but I have had them! As with most things in life, the negative can so easily envelop the positive. So when I get super down about how hard dating is in my adult life and minimize it to "Men suck and no one fucking tries anymore!" I try to remember that is not always true. And that ultimately how I choose to experience men/dating is up to me.
Doormen
Let's take it back to a simpler time in my life. It's 2015 and I am in the height of my Missouri-to-New-York-how-to-survive-as-an-unmarried-22-year-old-mindfuck. I never expected to enter my mid-twenties without a husband, and definitely not outside of the very easy-to-follow dating scene of Jesus culture. "How we are wired" was pretty cut and dry in the Midwest; The man pursues, because he likes adventure, and the woman is pursued because she needs to feel desired and fought for. But the more time I spent around men in New York, the more I gathered they hadn't gotten the "need for adventure" memo. I mean, I definitely didn't miss the Midwestern"is she marriage material" pre-first date screening of my high school/college days. But I also could not stand the overwhelmingly prevalent laziness in New York dating. Somewhere between a first date proposal and the blase` "so did you wanna still hang tonight?" would have been great.
So I'm living in a penthouse apartment on West 83rd street in a doorman building. That's right, a doorman. That thing most people in other cities can't even conceptualize but assume they're around to make rich people feel important by opening their doors? Yeah, I had those. Most doormen are usually old guys with families because it is actually a very sought after unionized job. The doormen in my building were friends or family of the super of the building who moved to NYC for asylum in the 90s during the Balkan Wars (Assisting refugees? Whatta thought). He didn't speak English and now he's a millionaire because he saved his super-of-a-building dollars to buy other apartment buildings all over New York. #theamericandream. Anyway our super had a hot nephew who was a doorman. We'll call him Hot Doorman.
You. Can't. Fuck. The. Doorman
That's right. I managed to live in the only building in all of Manhattan with a hot, young, buff, Eastern European, studying medicine full-time but also a full-time doorman doorman. So of course, I was drooling all over him (he also had the most amazing ass. I can really get behind men with great asses *see what I did there *). But to be fair, he was totally drooling over me too! He would chat me up about what I was doing at the gym, how acting and work was going, where I grew up, how moving to New York is, etc...I was super impressed with his work ethic, intellect, charming nerdiness, love for fitness, not to mention his accent...One evening my roommate (who has lived in that apartment his entire life) caught me chatting with Hot Doorman and said "Come on, MJ. Dinner's waiting."
"Huh?"
"I ordered Dinner."
"You did? Why did you order me dinner?"
"Are you coming?"
I was so confused. We get on the elevator.
"MJ, you can't fuck the doorman."
"WHAT?!?!"
"I'm serious. You live here. You can't fuck him. Not only will it be awkward for you if things go poorly, everyone in this building will know I have a roommate who is fucking the doorman. You. Can't. Fuck. The. Doorman."
I would like to say I didn't need to hear that, but I definitely did. I stopped talking to Hot Doorman as much and tried very hard to stay professional. Yes he had a great ass and fun Montenegrin accent and seemed genuinely interested in my life (which was a fucking breath of fresh air) BUT, I was not going to lose my penthouse apartment residence over a dude. Ha! Take that high school Bible study leaders. I'm not that boy crazy!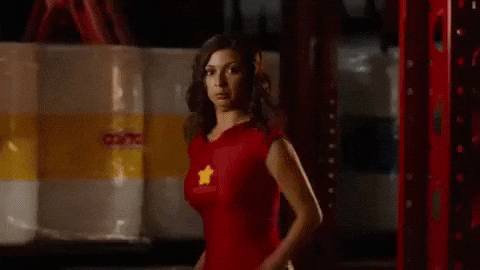 2.5 years passes of me and this doorman developing a friendship and he basically knows everything about me. The nights I've stayed out way too late and come home in the same clothes I left in, including a Halloween costume. That I'm too lazy to pick up toilet paper at Duane Reade so I just order it in bulk (doormen collect your online orders. It is the biggest and most important luxury of having a doorman. Otherwise you traipse around one shitty post office to another trying to trace down your package). My work, audition, and gym schedule, even that I'm going on other dates, and then finally this day comes:
"So I've started the new apartment hunt. Roommate is kicking me out so he can start a grown up life with his new girlfriend."
"Wait. You're moving out? When?"
"September."
"Alright. Let me take you out in September."
WIDE-EYED EMOJI
Oh my gosh. Hot Doorman wanted to ask me out after 2.5 years of getting to know me and my toilet paper preferences?! HALLELU!
I mean, yeah it was gunna suck to lose my cleaning lady, elevator, and terrace with a view of the Hudson apartment BUT I FINALLY GET TO FU…Date the doorman. Date. Totally only date.
September rolls around and our first date is drinks on a rooftop beer garden in Queens. Complete with dinner at a Southern Style restaurant on 40th Street (or 40 Avenue or 40th Alley Way. I don't understand Queens. It's not on a grid and everything is the same number with a synonym of road). It was super fun and turns out, Hot Doorman is even hotter when he's not wearing that derpy coat with 80 buttons that really just makes him look like a Tower of Terror ride operator. He wore this super fitted cream colored sweater and I honestly could not stop touching his biceps. He must have been flattered. We dated for five months.
Every date was considerately scheduled, even if it was just watching a soccer game at a bar. He was a full-time nursing student with a full-time job, lived in fucking Bayside, Queens (that is really far away from Harlem) and still made time for me every single week. He spent 45 minutes looking for parking without complaining when it was his turn to visit me in Harlem. He didn't like texting but always checked in, especially to see if I was around the Upper West Side while he was on duty. One week I couldn't hang because I had a friend in town, so he offered to take us out. My friend was beyond impressed with him, probably because he was so freaking smart and held really interesting conversations all night. Hot Doorman was way smarter than me, which was simultaneously arousing and intimidating. He even grew a beard for me. SERIOUS DROOLY FACE. I witnessed an older woman ask if he was preparing for his cover of GQ. Wanna know why, because #BEARDSBEARDSBEARDSFOREVER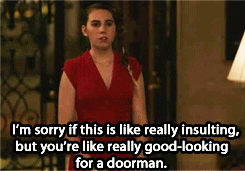 This guy pursued me because he saw me and realllly liked me.
Fuckboys and Fear
To be honest, I sometimes forget I was once in a legitimate dating relationship In New York City with such an amazing guy. For most of ages 21-25, I was very committed to believing I was unlovable (see: previous blogs), so I made sure everything in my life proved that belief as fact. I was emotionally attached to a total loser fuckboy, did terrible at most of my auditions, killed my insides from binge eating cookie butter and drinking entire bottles of wine regularly, and was totally convinced God hated me for abandoning my Midwestern Christian views. Because I didn't believe I was worthy, I was ultimately the reason Hot Doorman and I didn't work out. I told myself I didn't deserve him.
If a full-time nursing student with a salaried job who lives basically on Long Island can make time for me, your one-job-having-Midtown-dwelling-ass can figure it the fuck out
In a City that is apparently lacking in assertive and kind men, Hot Doorman pursued me and treated me very well. If a full-time nursing student with a salaried job who lives basically on Long Island can make time for me, your one-job-having-Midtown-dwelling-ass can figure out how to plan a freaking date. Or don't! Men are allowed to choose what they prioritize just as much as I am. And if I'm not a priority for them, then they probably don't see how awesome I am (or maybe they're just not actually ready to date. Idk not my job to emotionally unpack men who can't do it themselves). In which case, I don't want to be with you anyway because I am not in the business of convincing men I'm amazing. I just am amazing.
And beyond Hot Doorman, I have a decent amount of guy friends who began as dating companions. Wanna know why? Because these guys enjoyed my company, and I enjoyed theirs! They showed me they were great dudes through how they treated me while we dated AND how they reacted to my ending things. They've stayed part of my life because keeping company of quality men is super important, even if they aren't my boyfriend.
Navigating dating has not gotten easier since Hot Doorman. And I still don't think there is a one-size-fits-all-humanity list of rules like I was led to believe in my Jesus culture days. BUT I have found that I get to choose how I show up in the dating world. So saying things to myself like "No good guys ever like me!" or "All guys are lazy fucks." is just not true. Case and point this blog. I get to choose who/what I focus on, and how I spend my time and energy. So am I going to spend it with the "wanna hang later?" guy or the "How does Wednesday at 7pm sound? We can meet at the Jolly Monk near Columbia because I think that's equidistant for both of us" guy? The. Choice. Is. Mine.
So to all my single ladies, you wanna know how to date your "doorman"? Those super great guys with great butts and big brains and #priorities? Keep fighting the good fight. If you want a man who'll pursue, stay true to that desire and don't settle. Even if it doesn't last or even simply progresses to friendship, that's totally okay! Because you are reinforcing your self-value and respect by allowing only quality men who think you're #worthit a place in your life.
And most importantly, remember